Kahu's Mana'o
Sunday, January 6, 2013
The Rev. Kealahou C. Alika
"Where is the Child?"

Isaiah 60:1-6 & Matthew 2:1-12
If the truth must be told, it will be said here in church. I sat down at my computer last night to prepare for our time this morning. After I read what I had written, I hit "save" and then before shutting off my computer, I checked a second time just to be sure.
When I arrived at the church this morning there was nothing on my disk. The sermon for this morning is back home stored in my laptop computer.
I worried about what to say today about a story that is familiar to most if not all of us. I wish I could tell you that what I am about to share with you comes as a result of my own work and thinking. It doesn't, but the thoughts of the Rev. James C. Howell, the Senior Pastor of Myers Park United Methodist Church in Charlotte, North Carolina ring true for me and I want to share his thoughts with you.
Like Howell, many of us have sat through enough Christmas pageants that it may be hard for us to banish the image of graying dads or squirming little boys pressed into service, wearing bathrobes and Burger King crowns trying to appear as wise and regal as possible. But the magi that appear in our reading from The Gospel According to Matthew would have been exotic novelties in a place like Bethlehem.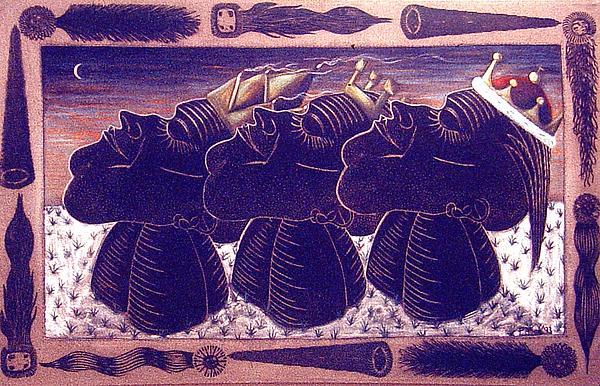 Who were these travelers from faraway Persia, who studied star charts and discerned the fate of others in the night sky? Who could be less likely to have discovered the Christ child?
Their mystical craft, handed down from the ancient Sumerians, predated even Moses. Judaism and then Christianity regarded their arts as deceptive, even dangerous. Instead of waiting expectantly for some messiah, they were taking notes on comets and planetary movements. Yet they are the ones who have come to worship the Messiah.
What did they see? A supernova? Jupiter and Saturn in conjunction? A comet? How would a star point to a particular house anyhow? Medieval writers believed the magi saw a bright angel that led them directly to the manger. (Dale Allison, Studies in Matthew, Grand Rapids: Baker, 2005, pages 17-41)
Some say Matthew isn't endorsing astrology. Instead, he clearly testifies to the power of God's love to bring foreigners and those who have up until now been clueless about God's plan into the fold.
Matthew also provides us with an element of a tragic comedy when he juxtaposes the magi over against the Bible scholars of King Herod's court. The Scripture experts have scrolls; but they miss the Messiah's birth and when they actually get a whiff that the Scripture might actually be taking on flesh, they recoil and lash out defensively.
But who is the king? Herod isn't, although he brandishes all the gaudy symbols of kingship. It could be said that Herod was one of history's most hysterical megalomaniacs.
When the magi are brought before Herod and ask him, "Where is the child who has been born king of the Jews? We have observed his star rising. We have come to pay him homage," Herod responds out of fear and seeks himself not to pay homage but to bring harm to the Child.
"How can this be?" he wonders. "I am the king."
The irony of Herod's response is as rich as when a grownup Jesus was asked by Pontius Pilate, "Are you a king?" (John 18:33) When the first Christians declared, "Jesus is Lord," the implication was "Caesar isn't."
If Jesus is king, there is something upside down and just plain unkingly about him. Poor fishermen stood as his court, his standard was a cross, his boast was not iron-fisted dominance but tender love. Little wonder King Herod was "troubled." All who cling to power, all who lust for dominance, are in for a headlong tumble before this Christ child.
The magi who come to worship him come bearing gifts. Gold reflects Jesus' royalty; frankincense his divinity; and myrrh his death. How did they know what symbolic gifts to bring? They simply brought what was precious, what they wanted Jesus to have.
What are the gifts we bring to the Christ Child? What is precious to us; what is it that we want Jesus to have?
The magi did not build a mansion in Bethlehem to stay near the one they worshiped. Warned by an angel not to return to Herod, they departed "by another road." (Matthew 2:12) They took another route to avoid Herod's vengeance.
Could it be Matthew is offering us a tantalizing hint about life for those who have met Christ? Could it be Matthew is helping us realize that nothing will ever be the same; that we do not take the old road any longer; that we unfold a new map and discover an alternate path?
Like the magi we have come to worship him and give to him our most precious gift – the gift of our hearts; and like the magi we have come to realize that nothing will ever be the same; nothing will come easy. A strange unfamiliar road is now our path – but our way will be guided by the light of God's love.
Epiphany is one of seven feasts celebrated in the Christian church. It is fixed on the calendar to come after the twelfth day of Christmas. It is one of the oldest feasts dating from the start of the second century. The date is not fixed to any date of the week. It happens that this year, Epiphany falls on this day.
It is a time when we remember the coming of the magi, guided by the light of a star, and the "manifestation" or "showing forth" of God's love in the birth of the Christ child. Each of us, like the magi, must find our way to the manger.
There are those who believe that the Epiphany or "manifestation" of God's love in our lives and in our world happened on that one specific day when the magi arrived in Bethlehem. But there are others who believe that God continues to be made manifest whenever Jesus is born into the hearts of all who believe that he is the Messiah. It is by the light of his love and the light of the love of others who have borne witness to this truth that we come to remember those who have gone before us.
The ʻAha ʻAina Wai Maka or "Feast of Tears" was traditionally celebrated in ancient Hawaiʻi to mark the first anniversary of a person's death. It was the understanding of our kūpuna or ancestors that tears were initially shed because of the sorrow one felt upon the death of a loved one.
The ʻAha ʻAina Wai Maka that was celebrated a year later was seen as an occasion when tears would again be shed but this time not out of sorrow but out of joy – for all pain and suffering and even death itself was no more. Today we remember members and friends who died in 2012 and for whom a memorial service was held in and through this church. We remember the following:
Kahu: Elvie Graham, Marvene Krueger, James McKenna, Leland "Stan" Maag, Mark Gilliland, Gary King, Alan Miller, Sr., Richard Reed, Dulce Takase
Liturgist: Alvie "Al" Caringe, Arnie Groth, Margaret Kirk
We also remember those who are resting in and around our columbarium:
Kahu: Peter Awai, Cynthia Cataldo, Daryl Conroy, James Cummings, Elizabeth Dando, James Dando, Dorothy Edwards, Kenneth Edwards, Helen Estep, Robert Gruman
Liturgist: Rachel Kalua, Walter Kavanagh, Patricia Kavanagh, Merle Kekuku, Verona "Ronnie" Kekuku, Justin Morren, Helen Page, Christina Raj, William Richter, Arthur Shoquist, Sally Weaklend
We add to our time of remembrance the twenty children and six adults who died at the Shady Brook Elementary School in Newtown, Connecticut on December 14, 2012:
Kahu: Charlotte Bacon, 6; Daniel Barden, 7; Olivia Engle, 6; Josephine Gay, 7; Ana Marquez-Greene, 6; Dylan Hockley, 6; Madeline Hsu, 6; Catherine Hubbard, 6; Chase Kowalski, 7; Jessie Lewis, 6; James Mattioli, 6; Grace McDonnell, 7; Emlie Parker, 6
Liturgist: Jacki Pinto, 6; Noah Pozner, 6; Caroline Previdi, 6; Jessica Rekos, 6; Avielle Richman, 6; Benjamin Wheeler, 6; Allison Wyatt, 6; Rachel Davino, 29; Dawn Hochsprung, 47; Anne Marie Murphy, 52; Lauren Russeau, 20; Mary Sherlach, 56; Victoria Soto, 27
Let us pray: In this season of Epiphany we give thanks, O God, for the light of your love made manifest in the birth of the Christ Child. By the light of his love and by the light of the candles that surround us we have gathered to remember and to celebrate the lives of those whom we have named this day.
We give thanks that you hold each person in your care. We praise you with joy. Ke hoʻomaikaʻi nei iā ʻoe me ka hauʻoli. Amen.
---
About Our Website Any opinions expressed in this website are those of the writer or writers involved. Unless otherwise noted, such opinions are not to be construed as the position taken by any of the boards, committees, or council of the church.