Kahu's Mana'o
First Sunday in Lent
ʻŌpūkahaʻia Sunday
Sunday, February 17, 2013
The Rev. Kealahou C. Alika
"Pili iā ʻŌpūkahaʻia"

Isaiah 41:1-10 & 2 Timothy 4:1-8
ʻŌpūkahaʻia was 17 years old when he arrived in New Haven, Connecticut in 1809. As a young boy he had seen his parents and younger brother killed in a battle of warring chiefs in Kona on the island of Hawaiʻi.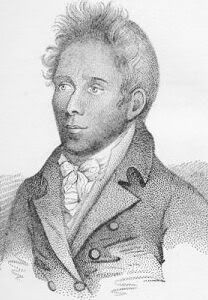 He left Kona not long afterward on board the ship Triumph uncertain of its destination. It is said that he was discovered one day sitting on the college steps at Yale weeping. When he was questioned by Edwin Dwight who was a student at Yale and who later became a congregational minister about why he was crying, ʻŌpūkahaʻia replied, "No one gives me learning."
When Dwight asked him, "Do you wish to learn?" ʻŌpūkahaʻia replied, "I do." With Dwight's help and the help of other students, the young ʻŌpūkahaʻia went from "illiteracy to eloquence and excellence in speech and writing" in less than a decade. (Nā Hīmeni O Ka ʻEkalesia, Ann Arbor, Michigan, Hawaiʻi Conference – United Church of Christ, 199, page 30)
But perhaps more significantly, with the help of students from Andover Seminary and the members of churches throughout the area, ʻŌpūkahaʻia became the first Hawaiian convert to Christianity. It soon became evident that he was determined to return to Hawaiʻi to share the good news of his new found faith.
He was preparing himself at the Foreign Mission School in Cornwell, Connecticut when on February 17, 1818 – almost two centuries ago – he died at the age of 26 from typhus fever. After his death, his early friend, Dwight published ʻŌpūkahaʻia's "memoirs" in the form of a brief biography.
ʻŌpūkahaʻia's story so inspired others into considering Hawaiʻi as a field for missionary work that the American Board for Foreign Missions chartered a ship with provisions for the first mission company to set sail for Hawaiʻi. The ship Thaddeus left Boston harbor on October 23, 1819. On board were two ministers, two teachers, a doctor, a printer, a farmer and their wives, plus five children and four young Hawaiian men.
It is said that it was ʻŌpūkahaʻia's life and his commitment of faith that launched that ship! We know from his memoirs that he so wanted to return home. As he lay dying the words that come to us from our reading of The Second Letter to Timothy provided ʻŌpūkahaʻia with great comfort and solace – "I have fought the good fight. I have finished the race. I have kept the faith."
Although he was not going to be able to return home, he knew others would come and as a consequence this church stands here today. It is a testament to the faith of one young man and the many who shared his desire to share the good news of the God who declares: "Do not fear, for I am with you, do not be afraid, for I am your God; I will strengthen you and I will help you" (Isaiah 41:10).
It would not be an overstatement to say that the faithfulness of ʻŌpūkahaʻia changed the course of history for Hawaiʻi and for the Hawaiian people. To be sure the American missionary movement was not without its faults and failures. Yet, here we are almost two hundred years later in a place born out of that movement.
ʻŌpūkahaʻia died on February 17, 1818. I began my call to serve as pastor here in Mākena on February 17, 1991.
For me it was a providential beginning because I know my presence here is the result of the life and faith of a young Hawaiian man who inspired so many to come. As I think about ʻŌpūkahaʻia, I am aware that there are others in our lives who continue to inspire us in our day and in our time. Today, I want to recognize those among us who have been a source of inspiration to me.
You've heard about O, The Oprah Magazine. Well, if there was 'O, The ʻŌpūkahaʻia Award for a life of inspiration and service, I would present them to six individuals who are a part of our church 'ohana or family.
A couple of Sundays ago Stephen Haines, our Choir Director, reminded us that this year marks the 15th anniversary of the birth of our choir. It was in February 1998 that Stephen gathered the founding members of Nā Leo Nahenahe, our choir, in this sanctuary. Stephen has been with us from the very beginning. The first O Award goes to Stephen for the years he has spent sharing his love of music with us and with two other members of our Music Ministry Team.
The second O Award goes to the second member of our Music Ministry Team - the always present Danny Brown, our organist and pianist. What can I say about Danny? I would be less than honest if I did not say that we have had our moments of misunderstanding on a few occasions in the past but they pale in comparison to the countless moments of joy he has brought to my life, to all of our lives. Danny will always be the first to say of our shared ministry, "We are blessed." The third O Award also goes to the third member of our Music Ministry Team. Ellen Caringer has been a very present help in times of trouble. Aside from being a remarkable pianist, her training and background as a respected psychologist has served her well in dealing with the highly volatile egos of team members Stephen and Danny. Just kidding!?!
Stephen, Danny and Ellen have been sources of inspiration to me.
There are three others that have been a source of inspiration to me. Many of you have seen them hard at work over the last several months. For several years now Cindy Edgerle has taken on the responsibility of serving as the coordinator for our annual golf tournament. She has done a remarkable job reminding everyone that the tournament is a time of not only fun and food, but fellowship – of spending time with each other.
I heard someone recently say that at their golf tournament the winners were determined by who lost the most golf balls. Well, our tournament is not quite at that stage, but I know how much time and energy and work Cindy gives to the event each year. The fourth O Award goes to Cindy Edgerle.
The fifth O Award also goes to Evelyn Brown, the coordinator of our Silent Auction event. Evelyn does her work quietly and effectively. She manages to gather many others around her to make certain that all of the planning and preparations are done in a timely manner.
She would be the first to say that her work would not be as effective were it not for the dedication of Pat Dawson, the coordinator of the Acquisitions Committee. The sixth and final O Award for 2013 goes to Pat. Like Evelyn, Pat does his work without fanfare. Days on end are spent organizing those who are invited to approach individuals and businesses in the wider community for donations for silent auction items. As challenging as the work may be, Pat has discovered in speaking with so many in the community that there is great joy in knowing many are eager to provide support for those in need on Maui, Molokaʻi and Lānaʻi.
Like the Apostle Paul who inspired Timothy to a life of service, ʻŌpūkahaʻia inspired others to a life of service. Those who made the journey to Hawaiʻi on that October day in 1819 were pili to ʻŌpūkahaʻia. They were bound to him and to one another in the faith they shared in Jesus Christ.
Stephen, Danny, Ellen, Cindy, Evelyn and Patrick have been sources of encouragement to the ministry we share together as the church – as the Body of Christ – here in Mākena. We are pili to one another. We are bound to one another and for that we give thanks to God.
Let us pray: For the mission that arose from the life and death of ʻŌpūkahaʻia, we give thanks to you, O God. For the company of men, women and children who cared enough for others and for you to come to Hawaiʻi and for the four young Hawaiian men who returned home; for the great consequences whether good or ill that no one could have foreseen or foretold which came from the mission; for the blessings which the good news of Jesus Christ brought, not only to Hawaii, but to all of humankind; and for the blessing of those whom we recognize and honor this day, we give you thanks.
'O ka hanohano ame ka nani ame ka lani ame ka hoʻomaikaʻi ʻana, e noho pū me ʻoe, e ka Haku, ko mākou Akua. Amen.
---
About Our Website Any opinions expressed in this website are those of the writer or writers involved. Unless otherwise noted, such opinions are not to be construed as the position taken by any of the boards, committees, or council of the church.